Like
Lettice Knollys
, another woman that managed to survive into old age during those tricky Tudor times was Bess of Hardwick. She is well known for having had a poor start in life but rose in society by means of her four husbands to become one of the richest women of her time.
Bess of Hardwick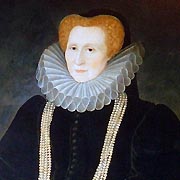 Bess of Hardwick
She was a descendant of Edward I and was born in Hardwick Manor in Derbyshire in 1527. Her father died when she was ten and at twelve she was sent to be a lady in waiting to a distant relation Anne Gainsford, Lady Zouche and her husband, who had served Anne Boleyn and Jane Seymour and were part of Henry VIII's progresses.
Bess married Robert Barlow when she was fifteen. He also worked in the same household but died a year later from distemper leaving Bess with an income of £30 a year - a third of his income from the customary widow's jointure.
In 1545 she went to work for Frances Brandon Grey, daughter of Henry VIII's sister Mary Tudor, and became close to her children Lady Jane Grey and her sisters Mary and Catherine. It was here that she met her second husband Sir William Cavendish who was 22 years older than her and already wealthy. He had the patronage of Edward Seymour who became the Lord Protector of Edward VI. Bess was now known as Lady Cavendish.
William Cavendish
They were married very happily for 10 years, had 8 children and during this period, Bess began building Chatsworth House.
Bess acquired her experience of accounting and estate management from Sir William, lessons that she never forgot and which set her in good stead for her future wealth.
She sold his properties in Suffolk and bought other more profitable ones in Derbyshire and cleverly managed his land. William died in 1557, leaving Bess very wealthy.
Chatsworth House
In 1559 Bess married William St. Loe, the date of the wedding was organised by Queen Elizabeth I who was now on the throne and she made Bess one of her ladies of the privy chamber probably because William had risked his life to support her through the Wyatt Rebellion. During this time, Bess was sent to the Tower as she did not pass on information regarding Lady Catherine Grey's marriage to Edward Seymour without the Queens's consent. William died after 6 years of marriage. He was possibly poisoned by his brother who had tried to poison Bess and William before to inherit the estate. Bess was left even more wealthy with many valuable properties.
William St Loe
George Talbot
She then married, in 1567, George Talbot, Earl of Shrewsbury, the richest nobleman of the time becoming the Countess Shrewsbury. At the same time, she married some of her children to his children to secure their futures. However, in 1569, Queen Elizabeth made them caretakers of Mary Queen of Scots which dragged on for 17 years which caused many problems for their marriage.
A collection of embroidery exists from those days made by Bess and Mary. See the V&A
collection
.
When George died in 1590, Bess began to build the new Hardwick Hall. She was financially completely independent now She eventually moved in in 1597 after supervising the work herself.
In 1599 Bess sent Queen Elizabeth I a dress that she had embroidered and also commissioned Nicholas Hilliard to paint a portrait of her wearing it. The Queen was amazed by the dress, original letters still exist reporting her reaction, see the link below. The painting is on display at Hardwick Hall.
Bess died aged 81 in 1608.
Her careful planning of her children's marriages meant that her descendants form part of many noble families today, including the present Queen.
Bess of Hardwick's letters are preserved and can be viewed
here
.
Here's some more information about Bess and her granddaughter Arbella Stuart, who she had hoped would become Queen.
History in an hour
Tudor Place
National Trust
.
-
Hardwick Hall with more glass than wall - the glass was made in her own glassworks